Spring Mountain Audi Club HPDE March 2021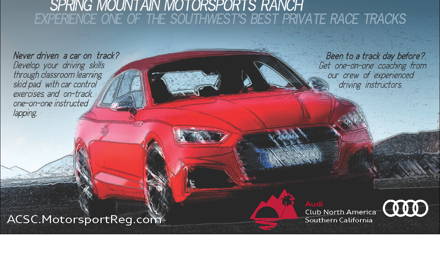 Audi Club NA - Southern California Chapter
Friday, Mar 12 — Sunday, Mar 14, 2021
Spring Mountain
,
Pahrump

,

NV
Registration closed March 7, 2021 11:59 PM at 2021-03-07T23:59:00-0800 Registration ends March 7, 2021 11:59 PM at 2021-03-07T23:59:00-0800 Registration opens January 11, 2021 12:00 AM at 2021-01-11T00:00:00-0800 Registration runs from January 11, 2021 12:00 AM to March 7, 2021 11:59 PM
HIGH PERFORMANCE DRIVING SCHOOL
Spring Mountain Motor Resort
Friday, March 12, 2021 - Sunday, March 14, 2021

What is it?
Have Fun driving your own car on a private racetrack.
Feel Secure in our supportive learning environment where Safety comes first.
Learn More about your car while improving your driving skills.
Enjoy a diverse group of friendly individuals who embrace performance driving and really understand, appreciate, and enjoy their Audi automobiles.  
Why drive with Audi Club SoCal?
Drive your OWN car! You will drive your own car during all driving exercises. Club instructors will help you improve your driving skills to ensure you get the most out of the experience, all in a safe learning environment.
Don't have an Audi (yet)? No Problem! All makes and models of coupes and sedans are welcome at Audi Club SoCal driving schools.
We train you! At Audi Club SoCal, we don't just "drop you into the deep end"! Beginners and novice drivers will spend the morning of the first day learning about vehicle dynamics and practicing car control on the skid pad. After lunch you will join the more experienced drivers on the track for the remainder of the weekend. In-car instruction and live classroom sessions are suspended due to current health restrictions, but online and remote instruction via lead/follow along with safe outdoor download sessions in small groups are equally effective learning tools. Whatever your level of experience, Audi Club provides learning opportunities tailored to your skill level.
Safety is not negotiable! Spring Mountain has extensive health protocols and procedures in place for our protection. Run groups are established to allow students to be on track with other drivers of similar experience. This is not a race or a racing school, so passing is allowed only on designated sections of the course and under controlled conditions. Drivers with documented experience will be placed in a run group appropriate for their skill level and their car's capabilities.
Registration Fee: The student registration fee (see next page for details) represents an incredible bargain! Your registration includes everything necessary for two days of fun with your car, including:
On-track driving supervised by trained Audi Club instructors.
Car control exercises and a free motorsports helmet rental are provided for all first time beginners.
Sophisticated online learning is included for first time beginners and is available at a discount for our experienced drivers.
Lunch at the track both days (grab-and-go box lunch).
All meetings are online for your safety. Downloads and briefings at the track are outdoors.
Audi Club North America allows many models of late model convertible cars and selected models of small SUV/CUVs.
There is even an optional Friday HPDE Practice Day - but only for experienced and advanced drivers as no formal instruction is provided on Friday. Open pit lane format provides plenty of track time.
Who are we?
The Audi Club of North America (ACNA) is a 501(c)(3) non-profit educational organization providing its members with driver safety training and education about the Audi brand. Audi ownership is not required for ACNA membership. Audi Club SoCal is the Southern California Chapter of ACNA, serving our members in Southern California and Southern Nevada. To support ACNA's educational purpose, Audi Club SoCal offers a range of events throughout the year including technical seminars, social events, driving tours, as well as High Performance Driving Education schools. Our driving schools are open to all ACNA members driving any make and model of coupe or sedan. Visit us at www.audiclubsocal.org, facebook.com/AudiSoCal and facebook.com/groups/AudiClubSoCal for more information about Audi Club SoCal.
Summary
This High-Performance Driver School is a safe, exciting, fun, and educational two days spent with friendly people at a terrific racetrack. You will learn about your car and its capabilities in a safe, controlled environment. When you have completed this school, your improved driving skills will enhance your daily driving experience. You will learn from and with other Audi owners and club members, forge new friendships, and make lasting memories.
Still have Questions? You may contact the organizers at eventmaster@audiclubsocal.org
Get all the details
Click the Continue button below to view event details and requirements.